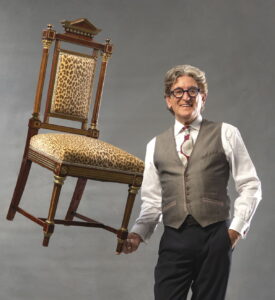 Click on this link for the full story in VoyagePhoenix Magazine:
http://voyagephoenix.com/interview/meet-charles-pavarini-iii-of-paradise-valley/
Copy from article in VoyagePhoenix Magazine April 2022:
As the grandson of Charles Pavarini, Sr., Charles Pavarini III has reinterpreted the legacy of the Pavarini Construction Company, known for creating historic New York City landmarks.
Pavarini's design style has evolved into a highly poetic blend of traditional and contemporary design elements, always dramatically executed given Charles' keen sense of color, style, and use of lighting as a 'design tool.'
Pavarini has accumulated 34 industry awards through the years, but one project reaped more awards than any other. He won four awards for Lucas Place Lofts, Kansas City, MO, including the coveted LUMEN Award for the Falling Sticks a 9-story light sculpture.
Charles has consistently dedicated himself to philanthropy throughout his career. He spearheads fundraising efforts for the Kips Bay Boys and Girls Club of New York and the Bailey House charities. As a Kips Bay Designer, having completed six rooms since 2003, he also maintains his position as Chairman of the Designer's Committee and co-chair of the Home & Décor Committee for the Bailey House Auction in New York City.
Charles began broadening his brand with various product lines, first forming his own company, The Original Lawn Furniture Co. (www.olfoutdoor.com), where he set foot into product design and manufacturing. From there, he secured a license with SWAIM Furniture, a luxury residential furniture line including upholstery and case goods. Later that year, for SAMAD, he produced rug lines for residential and hospitality design. KUZCO/ALORA is currently partnered with Pavarini Design to create Charles' decorative lighting lines, now available for sale worldwide.
In the fall of 2022, Schiffer Publishing will offer "Lighting Beyond Edison: Brilliant Residential Lighting Techniques in the Age of LEDs," a book that Charles has been working on for the student, interior designer, architect, builder, contractor, homeowner, and all other consumers of home lighting products looking to broaden their understanding of residential lighting with LED's, a specialty of Pavarini Design.
Would you say it's been a smooth road, and if not what are some of the biggest challenges you've faced along the way?
With every career, there are challenges that translate into learning experiences. However, I don't see them as bumps in the road instead as character-building and business-building exercises.
Alright, so let's switch gears a bit and talk business. What should we know about your work?
My former career as a performer and actor in musical comedy has given me a strong foundation for my interior design career. As an actor, one must be aware of their light. The theater has given me an abundance of knowledge and has allowed me to realize the power of light as a design tool in my designs.
My interiors exude a sense of quiet drama, consistently utilizing shadow and light for effect. Light is one of the most essential elements of an interior, although often overlooked. It is a principal component of my interiors as thought is given to lighting design in each room I encounter.
Lighting design enhances the design principles of a room and sets my interiors apart as rooms that embody a personality both by day and by night.
Networking and finding a mentor can have such a positive impact on one's life and career. Any advice?
With my family background and experience growing up in the Pavarini Construction family, I never sought mentorship for myself.
What I recognized early in my career is that the privilege of growing up in my family gave me the confidence to inspire and mentor others early on. With that, I joined industry organizations with the objective of influencing others and thereby serving as a mentor to them in my endeavors.
My experience as a professional member of IIDA, DLF-NY, IFDA, and ASID has given me a platform as an influencer. I regularly give lectures and presentations on various subjects I am well-versed in, from residential LED lighting to the use of crystals and gems to reinforce wellness at home.
In this capacity, I serve to mentor others by sharing a wealth of knowledge stemming from a legacy of Architecture and Construction, which I embrace in my interior design work.
Contact Info: