For about a month now, many of us have been at home to reduce the spread of COVID-19, and it has given us great experience evaluating the functionality and livability of our own home environments.  Our Dining Rooms have replaced our shared workspaces and Conference Rooms, our Home-offices have replaced our business offices, and it's likely many of us have converted other spaces in our homes such as our Living-rooms, Libraries or Guest Rooms into Home-offices since non-essential business has been curtailed.  Weather forecasters and journalists we normally watch from their studios on television are streaming LIVE broadcasts from their own homes during this time, revealing their environments and providing valuable insight into working collaboratively with others from home.  Given the severity of the situation and how it has impacted our daily routines, I think many of us, especially those of us with a family to nurture and protect, will come out of this isolation period with a desire to upgrade their homes to improve functionality but also to make them more of a feel-good place to be.
What is a home office?
Working from home can be a challenge without a thoughtfully-designed home-office, but measures can be taken to share living space so that one can have a comfortable place to concentrate on work without having to constantly adapt to sharing meals, home-schooling, or any other domestic activity. An ergonomic chair and desk is the first consideration.  Not only is comfort important for reducing fatigue and distraction but it allows for one to be more focused on the tasks at hand.  Proper task lighting helps maintain focus and concentration while decorative lighting enhances video-conferencing.  Unless it's daytime and you face a window, light on your face while 'Zooming' makes all the difference in others' ability to see and follow what you are saying or doing.  Privacy and quietude are critical for such endeavors as by now, we've all heard how background noise escalates during video-conferencing.  While going paperless really works best to keep your office low-profile, some form of filing cabinet or drawer is helpful to separate notes, drawings and print-outs from the different projects and tasks you manage. All of this can be accomplished whether you live in a large home or even a studio apartment.  Choose a place away from the dining area and TV where you can place a desk or office cabinet.
That very well could be in front of a window, in your bedroom, or in a hallway, apart from the main activity spaces in your home, where you can find time in-between domestic activities to get some business accomplished.
Taking note of backgrounds
Many of the faces you follow on television are even broadcasting from home now.  I don't know about you, but as a designer, I have been as focused on their backgrounds as the actual messages they are conveying.  This is an area where design professionals are needed.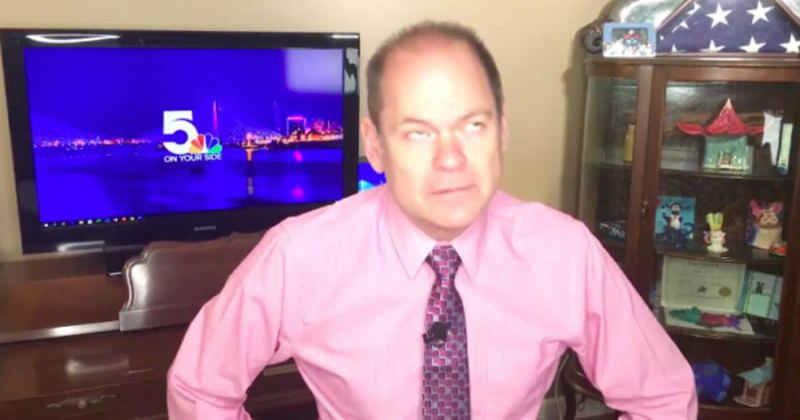 Its obvious many television personalities never expected to broadcast to the public from their private places which often look too personal or revealing, leaving viewers like me with an inside view into their personal style and taste which in many cases is irrelevant and distracting.  What's interesting though is how it is also inspiring and influential.  After watching Ryan Seacrest bake cookies in his kitchen I really was thinking more about his copper countertops than his tasty bites.  Many people, I'm sure, likely have this same feeling and will be thinking about their own kitchens, especially those who are broadcasting cooking ideas when they can't rely upon a studio kitchen.  This is one area where I think design professionals have important roles to help everyone from television personalities to 'YouTubers' on every level to 'up their game'.
Online Learning in your Home
Online learning has become an important tool to keep students engaged remotely and will only become more important as the technology improves. More people will be seeking this as a more permanent option for musical studies, extra-help, tutoring and other forms of learning outside the classroom.  This pandemic has made many realize they can still be engaged in a lesson or Zoom-meeting from home regardless of where they live, provided they have the suitable computers and smart-devices to do so.  For these activities, do they really want to be sharing their luxury kitchens or dilapidated dining-rooms with their instructors? Think about it!  Regardless of what their homes may look like, I'm sure they will be thinking about how they can adjust their space-planning by having designated places for such activities to increase efficiency without backgrounds distracting from the message.  Design professionals will likely be called-upon to help people with this newly discovered issue.
Change on the home-front
During this stay-at-home period, I venture to guess that never before has anyone spent so much TIME in their home.  Sitting in old chairs day after day or looking at bare walls or tired prints on them, many will be thinking about change. . . change that brings them more connected with their home and more content with its surroundings.  Many will be thinking about growing herbs and vegetables and about the simple luxury of their yard or terrace and the escape it provides.  Others will be thinking about their lighting fixtures and upgrading their dining-room chandeliers to put out more light or even upgrading all of their incandescent lighting to LED now that all the lights are on day and night.  Efficiency will only become more important to people as they notice their electric bills have climbed with all of the activity at home.  Sources for home furnishings, lighting, garden centers, art galleries, and the design and other industry professionals in those fields will likely experience a re-bound in business in the days ahead, and it's important that we all are ready for the consumers in ways that don't overwhelm them.  At some point the endless email campaigns about being COVID-compliant will end, and a rebirth in sharing of products and services will emerge to capture the consumer in their quest for change.
As industry professionals, be thinking about how you can be a part of this upward trend in a way that facilitates your engagement without overwhelming your potential customer and how you can engage your customers in adapting their home environments to better serve them.  None of us know what the future may hold, but rest-assured knowing that change is sure to ensue from this lockdown period, and embracing those changes is the key to survival in business.  While you may really want to sell that black crystal chandelier or other luxury goods, your customers may benefit more from some proper recessed lighting upgrades or some good task lighting for working and reading after dark.  Alternatively, dollars spent on a new rug or carpet may be less important to many than some nice wall art or other visual elements that may be caught on camera in the background!
Stay focused and continue to diversify your expertise as the world emerges from these dark days in search of what really brings them what they need: a more diverse and enjoyable home they can count-on to be a safe haven in the months and years ahead.~ J. Randall Tarasuk, VP