5 Home Office Interior Design Ideas For A More Productive Workspace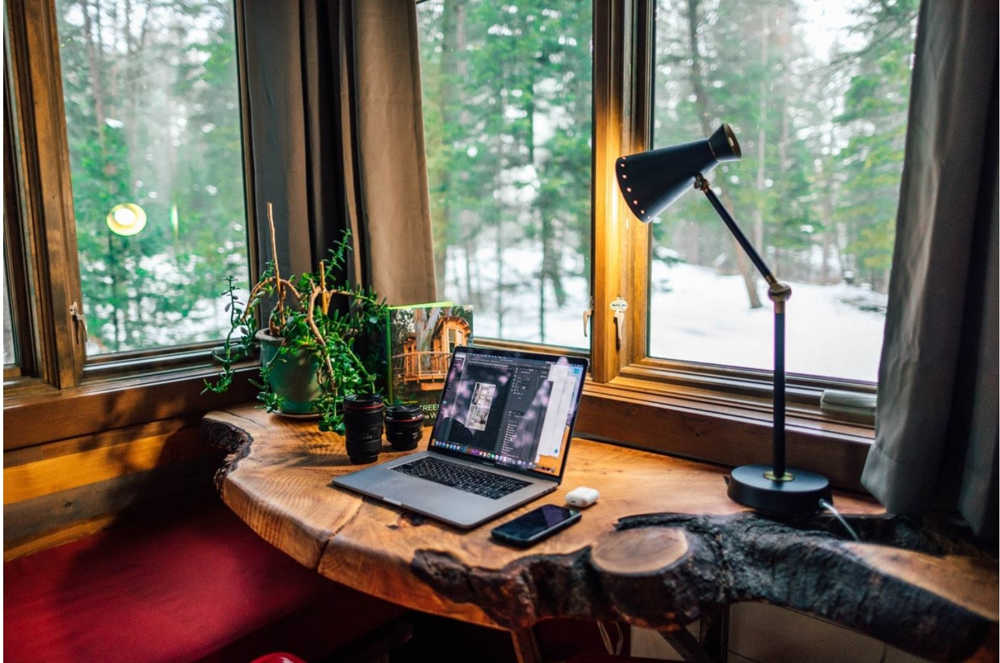 The unprecedented coronavirus pandemic has more people working virtually than ever before. While some people are enthusiastic about the prospect of working in their pajamas, others are wondering how to manage their typical workflow in an abnormal setting. This concern for productivity is high for workers and their bosses alike. 
The issues with productivity become especially pressing when you have children, pets, a spouse, or other distractions. Even if you're home alone, for most people, home is a sacred space. It's a place for relaxation, socialization, and breaking away from the office. However, unprecedented times call for unprecedented measures. 
If you're a newly homebound employee, wondering how you're going to keep your workflow unchanged, there are several things you can do. To capitalize and supersede your productivity goals, it begins with designing a home office that eliminates distractions, allows for peace, and creates an environment that cultivates work. 
Here are five home office interior design ideas for a more productive workspace.
Install Glass Walls 
One of the most challenging aspects of working from home is eliminating distractions. If your house doesn't currently have a home office, or if your home office is shared, glass walls are a fantastic addition. With glass walls, you can easily block off distractions, and carve out a quiet place to work. 
Glass walls work well for those who have children, too, because it allows you to keep your eye on them through the glass, while still having a clear barrier. Switchable privacy glass is also a fantastic option for making your home office an office during the daytime, while having the ability to open it back up for normal use during the evenings. 
Use Neutral Colors 
There's a lot of science on colors and how they play into a person's emotions and productivity. For instance, blue is a color that evokes logic, communication, trust, and efficiency. Green provides balance and is a common office color choice for businesses whose employees have to work long strenuous hours. Yellow is fantastic for sparking creativity and positivity. 
When choosing the color for your home office, you'll want to keep the science of color in mind. However, just because blue is a safe office color, an entirely blue office isn't necessarily trendy or chic, Interior design is about using this color theory in an aesthetically appealing way. In other words, it's best to go with a neutral palette, like beiges and off-whites, and then accents with mood colors. 
For instance, you could have a white solid surface desk against a blue accent wall. Then, have the rest of the office off-white and accented with blue décor. 
Integrate Sustainable and Natural Products 
Sustainability is a huge trend in modern office design. Eco-conscious design and materials preserve natural resources, create less waste, and create fewer toxins. But beyond that, in our current uncertain times, supply chains aren't operating like they usually do, making sustainable and recycled products more easily accessible. 
One way to incorporate sustainability into your home's office design is via reclaimed wood flooring. It has the luxurious benefits of a wood floor, with all the benefits of sustainability. Reclaimed wood is also just an incredible material to incorporate into your home office design, and not just because it's trendy, but because it could boost your mood. 
Exposure to natural elements, like sunlight, greenery, and wood, have been proven to increase job satisfaction, organization, and decrease rates of anxiety and depression. So, be sure to add plenty of natural elements to your office's design to boost mood and productivity. 
Go for Minimalism Décor 
A cluttered work environment leads to a cluttered mind. If your home office has clunky design and standing messes, your ability to be productive decreases dramatically. While you might be tempted to cover every open space with decoration, it's not a smart idea. There's a reason that all the big tech companies have opted for minimalism. 
Instead, design your office to have everything essential to doing your job. Then, only add tasteful décor that enhances your mood and doesn't draw your focus. 
Add Exercise Equipment 
Studies show that exercising during the workday improves time management and task completion by an astounding 72%. This isn't full-blown cardio or incorporating your regular workout into the middle of your day. Instead, it's about taking breaks for light, low-intensity workouts throughout the day. 
You might be able to sit at your standard office all day and remain productive without exercise, but at home, adding some light aerobics to your daily routine could be just the trick you need to stay on task. The key is about staying in your office while you do it, rather than using it as an excuse to leave your home office and get distracted. 
That's why you should consider adding some light exercise equipment into your home office. This can be things like an exercise ball, resistance bands, a yoga mat, hand weights, or a treadmill. You'll want to incorporate these into the initial design, so that all your equipment has a place for it to go, so it isn't contributing to unnecessary clutter later. 
Increase Your Productivity Today
These five ideas are surefire ways to make your home office a more productive atmosphere. While the transition to working from your house can be a difficult one, it isn't impossible. With planning and thoughtful design, you might find that you're even more productive at home than you are at the regular office.  
Matt Lee is the owner of the Innovative Building Materials blog and a content writer for the building materials industry. He is focused on helping fellow homeowners, contractors, and architects discover materials and methods of construction that save money, improve energy efficiency, and increase property value.